The town of Bluffton, located in what was the King's grant to Lord Proprietor Colleton, has had quite an interesting and important history.
Situated on the "High Bluff" overlooking the beautiful May River, it came to be, in the early 1800's, the summering place where the families of the rice and cotton planters of the surrounding "Low Country" could escape the heat, insects and malaria of the near sea-level plantations. It was a merry place where everyone swam, boated, fished, crabbed, shrimped and, in the cooler weather, enjoyed the oysters, clams and scallops as the Indians long before them had done and as the present day residents still do.
Bluffton grew. Travel between the coastal towns in the early days was, of course, mainly by water. So, as it was situated between Savannah on the south and Beaufort and Charleston on the north, Bluffton became an important distribution center. Out of Bluffton to the coastal cities flowed the crops from the farms and plantations (and often from there to Europe). And back came the supplies the farms needed. Soon the main street of Bluffton, leading to the town wharf, boasted well-stocked general stores and boarding houses to serve the increasing number of travelers. This commerce brought Bluffton year-round residents.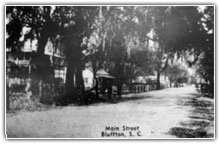 In 1844 the planters around Bluffton became angered by Federal tariffs which were making the goods they imported from abroad excessively expensive. Out of this discontent grew the "Bluffton Movement." Incensed planters gathered beneath what became known as the "Secession Oak" and the secessionist movement was born. Sixteen years later South Carolina became the first state to secede from the Union. On June 4, 1863, several Union gunboats and a transport carrying 1,000 infantrymen steamed up the river to Bluffton because, as the officer in charge wrote in his report, "This town has been the headquarters for the rebels for a long time in this vicinity." Troops were landed with orders to fire the town. Confederate soldiers attacked but were outnumbered and outgunned. When shelling and torching ended and the Union forces withdrew, 34 or more homes, churches and other buildings had been destroyed. This, of course, was a severe blow to the town which took years to overcome.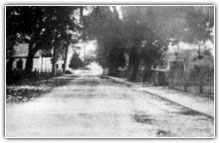 But Bluffton is as resilient as it is unique. Its antebellum homes and churches, many of which still stand, are as interesting today as on the day they were built. And their third and fourth generation owners are as proud of them as their great grandparents were. Interspersed with them are newer structures and newer people: scholars, artists, musicians, writers, scientists, farmers and businessmen from many places. And an increasing number of young people who work in Savannah or Beaufort or Hilton Head Island choose to live in Bluffton, drawn not only by the bluff, the river and the weather but most of all by a feeling of what can only be an extremely strong mixture of community and independence . . . and that's Bluffton.